Studies " Martin Selig Real Estate
In 1984 the Martin Selig Real Estate company first installed Descal-A-Matic units in one of their Seattle office tower projects. They quickly realized the benefits and by 1991 had added units to five additional new buildings, ranging in size from 100,000 to 1.5 million square feet.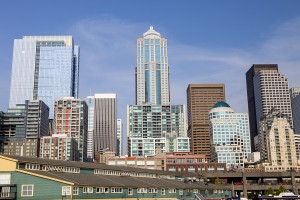 The company has since installed Descal-A-Matic water treatment units in more than 20 high-rise buildings in Seattle and as their director of facilities engineering and environmental services has said, œWe will always install Descal-A-Matic units on any new project we build.
Here™s Why
Each of the buildings has a hydronic heat pump heating and cooling system, which is a closed-loop circulating system. The Descal-A-Matic units are installed in the loop. As reported by the company, œthe water in the closed-loop system is crystal clear and the heat transfer is excellent.
Another, older building features a Baltimore air coil closed fluid cooler cooling towner. Prior to installing the Descal-A-Matic non-chemical water treatment units, the heat exchanger tubes and inside walls of the tower had a build up of calcium forming from the sump water that was circulating over the tubes for heat transfer.
After three weeks with the Descal-A-Matic DC-12 unit the calcium was starting to flake off, and the system has been operating cleanly ever sense.
Companies like Martin Selig choose Descal-A-Matic because our units deliver on the promises and get results. Operating and maintenance costs decrease and water quality increases.
Contact us today or check with your nearest dealer to learn more about the Descal-A-Matic water treatment system.