Applications - Water Treatment
Descal-A-Matic non-chemical water treatment units remove scale and water hardness from a variety of water systems. Some of our typical installations include:
Commercial HVAC Water Treatment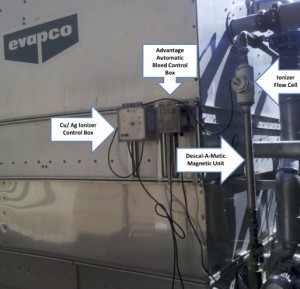 One of three EVAPCO cooling towers at Desert Willow in southern California with Descal-A-Matic non-chemical water treatment units installed.
Commercial HVAC units are susceptible to scale buildup wherever there are heated surfaces that come in contact with water. The Descal-A-Matic unit removes the ability of dissolved solids and minerals to attach to those surfaces, preventing - and eliminating - scale.
Applications include preventing and removing scale from:
Cooling towers and evaporative condensers
Boilers
Heat exchangers
Closed loop systems
Vacuum pumps
Straight-through systems
---
Water Fountains, Features and Museums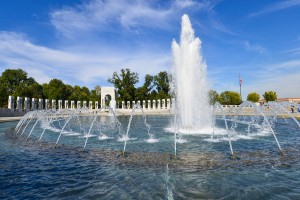 Descal-A-Matic water treatment units help keep the water at the World War II Memorial free of scale, slime and algae.
The Descal-A-Matic non-chemical water treatment system is frequently used to treat water in fountains, reflecting ponds and water features, particularly in museum and memorial environments where precise results are needed and chemicals can have harsh impacts. Installations include:
The World War II Memorial in Washington, DC, treating 411,000 gallons (1,555,800 liters) of water to control scale, corrosion, algae and bacteria without chemicals.
The Hirshhorn Museum
The National Gallery of Art Sculpture Garden
The Kowloon Station in Hong Kong
The Mormon Tabernacle Tower
---
Hospitals, Surgical Centers and Medical Facilities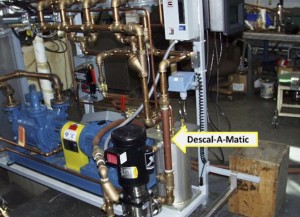 Descal-A-Matic unit installed on the water line to a 75 KW Steris Sterilizer system to prevent hard water scale deposits on the heating element
The Descal-A-Matic units are smart solutions for medical facilities,allowing significant savings because many pieces of equipment cannot betreated with chemicals due to various reasons. These once-through waterhandling systems are easy to treat with the Descal-A-Matic units,leading to longer life and lower maintenance and repair costs forequipment. In fact, equipment supplier STERIS recommends Descal-A-Matic
for its products.
Sterilizers
Steam generators
Autoclaves
Humidifiers
Vacuum pumps
Flushometers
R.O. Units (dialysis)
Water distillers
Laundries
Kitchen equipment including dishwashers, steam cookers and ice makers
---
Other Uses
Since 1970, Descal-A-Matic water treatment units have been installed in a wide variety of water supply systems. In addition to the applications listed above, these include:
Residential condo, townhome and apartment complexes
Residential water supply systems
Swimming pools and decorative ponds
Milk processing
Spray-wash systems
Dust collectors
Restaurant equipment including ice makers, dishwashers and steam cookers
And virtually any other application where water treatment is desired without chemicals