Products - Ion Generator
The Descal-A-Matic Ion Generator is a proven solution for controlling algae and micro-organisms in water systems, particularly those in fountains, water features and similar settings.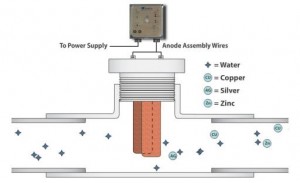 The Ion Generator™s pays for itself quickly by eliminating the need to spend thousands on chemical sanitizers, algicides and clarifiers etc. Operating costs for the ion generator™s electrical consumption averages less than 25 cents per month. Periodic oxidizing and maintaining normal water balance are all that™s needed.
Water has been successfully treated with copper and silver for centuries. The technology was perfected when NASA developed an electronic system to purify drinking water for use aboard spacecraft for the Apollo missions.
The Descal-A-Matic Ion Generator system electronically releases copper and silver ions into the water where they destroy bacteria and algae " which are then filtered out
It Pays to change to ionization. It just makes dollars and sense. The paybacks are real in money, time savings, better health, and the pleasure of clean pure water.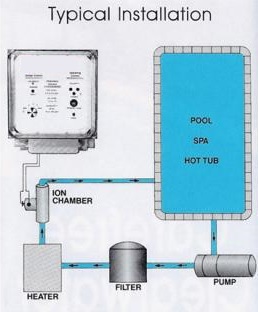 Typical Installation
The ion chamber is usually installed after the unit is wired to the pumps power supply with the control panel mounted nearby.
Ionization
Pays for itself quickly and costs less than what you™re spending right now. It eliminates exposure to high levels of toxic chemicals. The anodes put a safe amount of copper and silver into the water.
Money savings
Saves thousands in future chemical costs. Also saves money by eliminating bleaching and other damage to air and hair, pool equipment and nearby plants and flowers.
Time savings
No more daily testing, dosing and handling chemicals. Automatically keeps your water algae and bacteria free. Unlike other chemical sanitizers, mineral ions are unaffected by heat and sunlight, providing constant and safe water.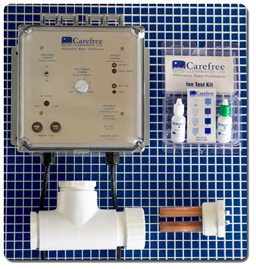 Simple maintenance
Periodic water testing and occasional oxidizing are all that™s needed. The Anodes can be cleaned with citric acid and a light scrub brush. Replacing the anodes are as simple as changing a light bulb.
Eliminate irritation
No more burning eyes, dry skin, bleached and damaged hair, offensive chemicals and allergic reactions. Enjoy swimming in refreshing mineral water. Your skin stays soft and healthy.
Extremely Stable Sanitizer Residual
Unlike ozone which only lasts a few minutes and unstabilized chlorine or bromine which only last a few hours. Purifying Ions do not dissipate from heat and sunlight. The bactericidal effect is actually enhanced by sunlight and high temperatures and is not pH dependent like chlorine!
Healthy for you and your family
The minute levels of copper and silver even satisfies EPA drinking water standards. Copper is a daily dietary requirement and silver has long been used as a purifier.
Safe
First developed by NASA to purify drinking water. The solid state electronic controls produce very low current " like several flashlight batteries, enclosed in a weather-tight case. The equipment meets or exceeds UL and National Sanitation Foundation (NSF) standards.
Simple and Automatic
Anyone can operate or install it. Easily added to existing equipment.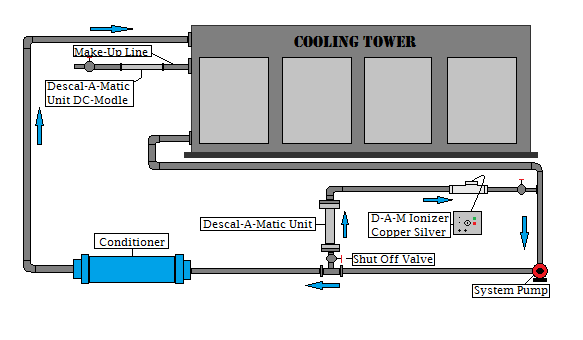 Uses include numerous commercial and non-commercial applications such as swimming pools, hot tubs, spas, decorative fountains, cooling towers and other industrial applications. For plaster, vinyl, fiberglass and all other surfaces.
Applications include swimming pools, spas, hot tubs, fountains, cooling towers and HVAC systems.
The unit Purifies 10,000 " 125,000 Gallon of Water.
Includes Automatic Control Panel, Anode, Ion Test Kit, 3³Ion Chamber, Installation & Instruction Manual.
Model 1100 -
For use with Cooling Towers under 100 tons or Swimming pools/Spa's up to 25,000 gallons. This is a 2" Ion Chamber.
Model 1200-R
For use with Cooling Towers from 100-300 tons or Swimming Pools/Spa's up to 45,000 gallons. This is a 2" Ion Chamber.
Model 1200 - C
For use with Cooling Towers from 300-1,000 tons or Swimming Pools/Spa's up to 65,000 gallons. This is a 3" Ion Chamber.
Model 1200 C-1
For use with Cooling Towers over 1,000 tons or Swimming Pools/Spas up to 125,000 gallons. This is a 3" Ion Chamber.
Please note that this unit can handle two sets of anodes which almost doubles its capacity.
**All models include installation and instruction manual, test kit, anode and control panels.**
Anodes typically are replaced every 18 - 24 months depending on usage.
We do sell replacement anodes.
Contact us today to learn more about the Ion Generator and applications.